The Children Are Grown But The Nursery Decor Is Timeless.
Twenty four years later and this adorable nursery would still be in style today.  A non-gender specific theme of teddy bears was chosen for this Shrewsbury, MA nursery.
A Designer's Guild fabric was selected from London.
Attention to detail is a true sign of custom.  Check out the hand painted rod the curtain ties onto.
How sweet are these hand painted stuffed bows?
What a fun tieback!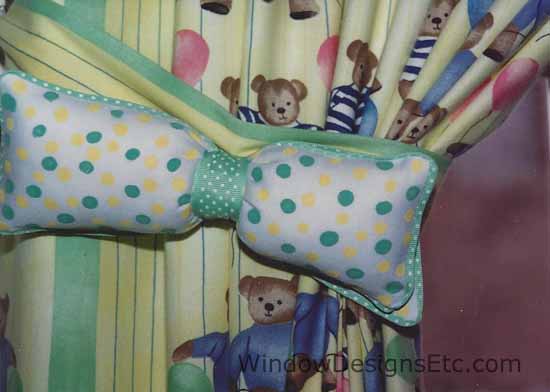 Often the #TBT's in this series are good for a laugh at the past.
Like the sweet smell of a baby and the softness of it's skin, this nursery never gets old.
Good design is timeless!
XOXO
Marie
Did you like this post?  Please do me a favor and go back up to the top and share it with your friends.  They will appreciate it and so will I. Thank You!
Contact me today, I will guide you in the best decisions to make your house into a home you love to live in.
Hiring a professional saves you time, frustration and money. You, your family, your house and office deserve it!